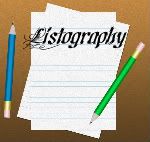 Today I'm joining in with Kate Takes 5 Listography which is on the theme of the Top 5 Random Things I like.
1. I love the smell of creosote and always have done since I was a child.  Passing a fence freshly creosoted is such a lovely smell and one that reminds me of my happy childhood.  If there is no-one around I am even tempted to have a closer sniff.
2. I like raw cake mix.  As a child, my mum made a lot of sponge cakes and fairy cakes and it was a treat for me and my brothers to take it in turns to lick out the bowl.  Now when I mean lick out the bowl, I don't literally mean licking it with our tongue, but scraping it out with a spoon or our fingers.   Now that I'm a mum, I let my children do the same and I also sneak a spoonful of the mixture myself.  Lovely
3. I enjoy the cosy feeling of being in my house while there is a dramatic storm going on.  I love watching the flashes of lightening against a darkening sky and hearing the thunder in the background.  It makes me feel very grateful to live in a country where most storms are not threatening to life. 
4. I love the smell of a freshly carpeted room and the bouncy feel of new carpet under my bare feet.  It's the only time I really love walking bare foot on carpet as I hate the thought that that carpet will soon get worn down and dirtied by many pairs of feet afterwards.
5. I enjoy listening to music and have quite a varied taste ranging from classical to chill to pop music.   I particularly enjoy the music of the Welsh composer and musician Karl Jenkins.  One of his most powerful and reflective pieces of music is The Armed Man which is essentially an anti-war piece of music that appeals for peace.
There you have it - my list of 5 random things.  If you would like to read other bloggers' lists or fancy joining in with this listography, then pop over to Kate's blog.
This post is day 16 of the nablopomo challenge where I have to submit a blogpost every day in the month of November.